Flow Mini is Here and its ONLY 800g. Now Upgraded with 2 Year Warranty!
THE FLOW MINI IS SMALL, LIGHT AND STILL POWERFUL. 
1500mah, 24V Battery, you can enjoy over 2 to 3 hours of use per charge.
Our in-house motor design significantly reduces noise compared to other massage guns in the market, only 55db!
3000 percussions a minute at max speed helps increase lymphatic flow & reduce lactic acid.
AFTER MANY FEEDBACK FROM ATHLETES WHO WANTED SOMETHING LIGHTER AND SMALLER TO HOLD BUT STILL POWERFUL, WE WHEN DEEP INTO R&D AND 1 YEAR LATER, FLOW MINI IS BORN! WE REDESIGNED THE WHOLE DEVICE, KEPT THE 10MM AMPLITUDE, 3 HOURS BATTERY LIFE AND NOW ONLY 800G.
Flow gives Athletes a Precision Sports Massage via four levels of Powerful Vibration – to promote best Performance, Reduce Fatigue, and Relieve Muscle Swelling and Tension.
Accelerates warmup of muscles before exercise.
Regular use improves an athlete's overall mobility and range of movement.
Helps to release trigger points and assists the break up of scar tissue.
Easy-to-use self-myofascial release any time, anywhere.
May help reduce common muscle and joint pain.
Our Motor
---
When we set out the requirements for the Flow Mini, a significant reduction in noise and outstanding battery life were our highest priorities. To achieve this, we knew we'd have to design our own motor in-house. 
Our powerful high-torque motor is completely brushless, cutting-edge, air-cooled and uses fewer parts than other off-the-shelf alternatives.
Designed by our engineers in the UK and fabricated in Shenzhen, no other motor comes close.
Controls
---
The Flow Mini is the most controllable handheld sports massager in the world, with three levels of power and our patent pending FlowWave™ mode which was developed in conjunction with Sports Physios to provide the most effective recovery possible for athletes.
Level 1 (Relax): 1800rpm 
Level 2 (Refresh): 2400rpm 
Level 3 (Recharge): 3000rpm
FlowWave™: L1 through to L3 ∞
Features a Smart Start Function where you can start the device with a click of a button. No need for complicated set up, 1 click to turn on and another click to increase the speed. 
Flowheads
---
Ball Head:
With forgiving high-density foam, this head is for use around bones and other sensitive areas.
Hammer Head:
The jack of all trades head, this head is designed for overall body treatment and larger muscles groups.
Bullet Head:
The small diameter of the bullet head makes it perfect for focused muscle treatment; to pinpoint trigger points and work them away.
Fork Head:
Perfect for the spine, lower neck and Achilles' tendon along with major muscle groups like the calves and quadriceps. Care should be taken when using the fork Flow Head™ in tender areas.
Whats included in the box?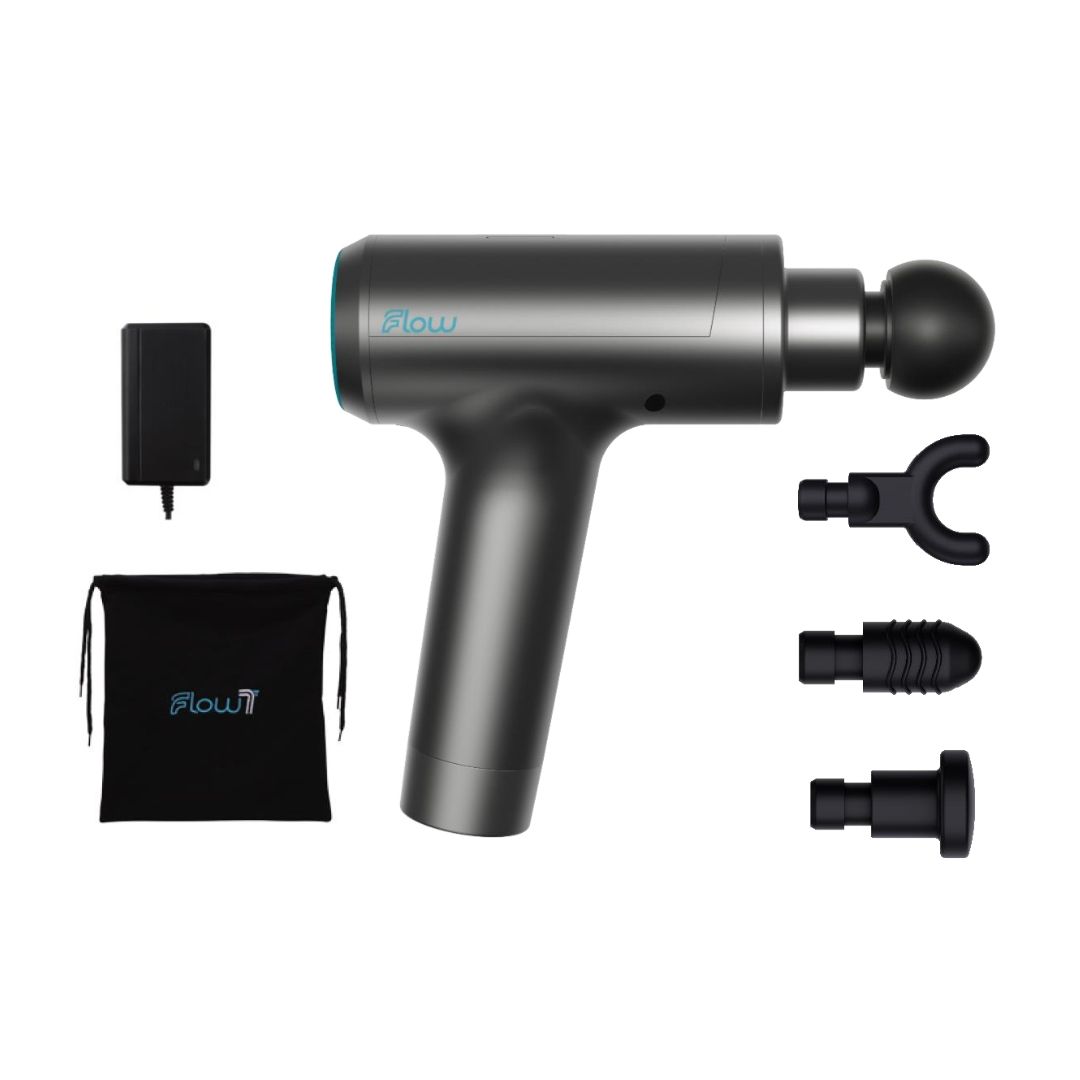 We work Health Care and Fitness Professional.
If you need the item for your client. Do contact us.