Read This, To Not Buy The Wrong Massage Gun!
Hello Everyone,

Heechai here from ArmourUP, If you are looking to purchase a Massage Gun, to release tight muscle, improve your recovery and feel better. Read on, as we explain to you what Massage Gun is currently available in the market (and avoid getting cheated), this 5min read will save you tons of $$! Especially point number 3.
If you are unsure what a massage gun is, and what it does. Checkout this article here first.
A little Intro About us, we have been selling sports recovery product and training gear in Singapore since 2016. We have seen many products and we only want to bring the best to you! This is our honest opinion on what we found. Hope the information below can help you.
What is the Problem you are trying to fix?
But before we begin, regardless where or who recommended you to get a massage gun, do note that Massage gun doesn't treat or help you solve a problem area (Unless its a Muscle Tightness issue).. If you are currently experiencing PAIN, Stop what you are doing and please seek for professional help. If you are unsure, drop us a whatsapp and see we can see if we can advise you on your issue. Click here Whatsapp Us.
Massage Gun to Avoid.
So Lets Begin, to make it easier to navigate you can use the link below:
1. Lazada $60 Massage Gun
2. Kraftgun Scam
3. Hydra/OEM Style Massage Gun
4. Our top picks for 2022.
5. Shop Our Store

---
Lets start with the $60 Gun on Lazada/Amazon/Shopee/Shopping Cart. Here are some points why we don't recommend you getting it.
1. Battery and Charging is a big issue. Some used for a few months and the battery die on you and It doesn't turn on anymore. For others, we have seen cases where the gun caught on fire. Better to filter carefully before purchasing. While i do agree there are some brands that are pretty decent, but there is no warranty for most. Most store disappear after a few months. These guns are cheap for a reason, most of them are using recycled batteries or some are rejected goods.
2. Cheap and low quality Motor that is super weak, stall force almost zero. You can stop it with your finger.
3. Product image and Product receive can be different. You can scroll thru the Product Review, and see what people say.
4. No warranty for most, or very hard to claim warranty.
Kraftgun, (PLEASE PLEASE DO NOT BUY IT) something that people always ask.. we seriously think that this company is a scam.. please be very careful and buy at your own risk. You can search google review, or instagram hashtag. Facebook group Link (here). Where people are having trouble with the customer service as they delay the shipping of the products for more than 6months! According to their latest email, they will be shipping out end AUG for their latest "force" edition. Can you imagine their older model that people bought last November is not out yet and now they are coming out with "new model" and they are promising customer that the newer model is better and they will ship out the newer model to them by end AUGUST. I have zero trust on a company like this, do your own research before paying for it, and for paypal "refund policy" or credit card "refund" if its over 60 days i dont think you will be able to get a refund.
Buying things online these day is getting tougher, filled with fake review, fake website and even fake product.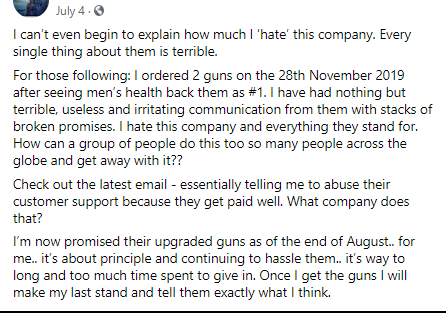 Attached above is just one of the many post in the facebook group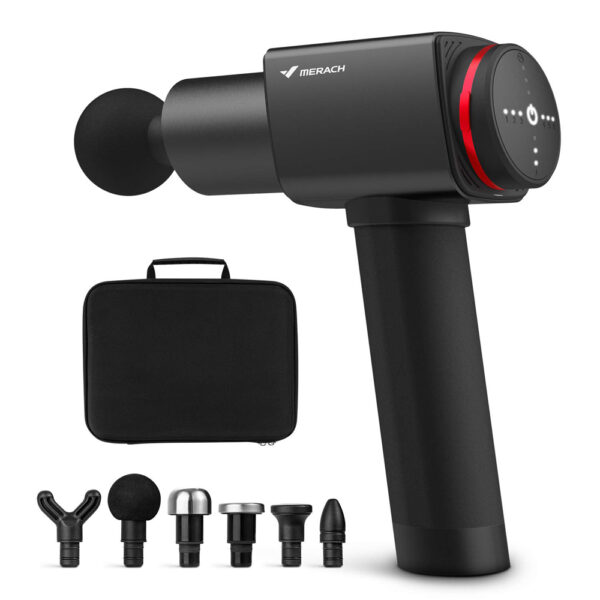 *If you see any product (The brand that starts with H..) that looks exactly like the picture above and claims to be a Singapore "Created" its not. Or maybe yes they created it, the LOGO and the packaging box. and that's it. Merach is also a brand in china that uses this mould and has been in china for more than 3 year, so dont be fooled by their great marketing.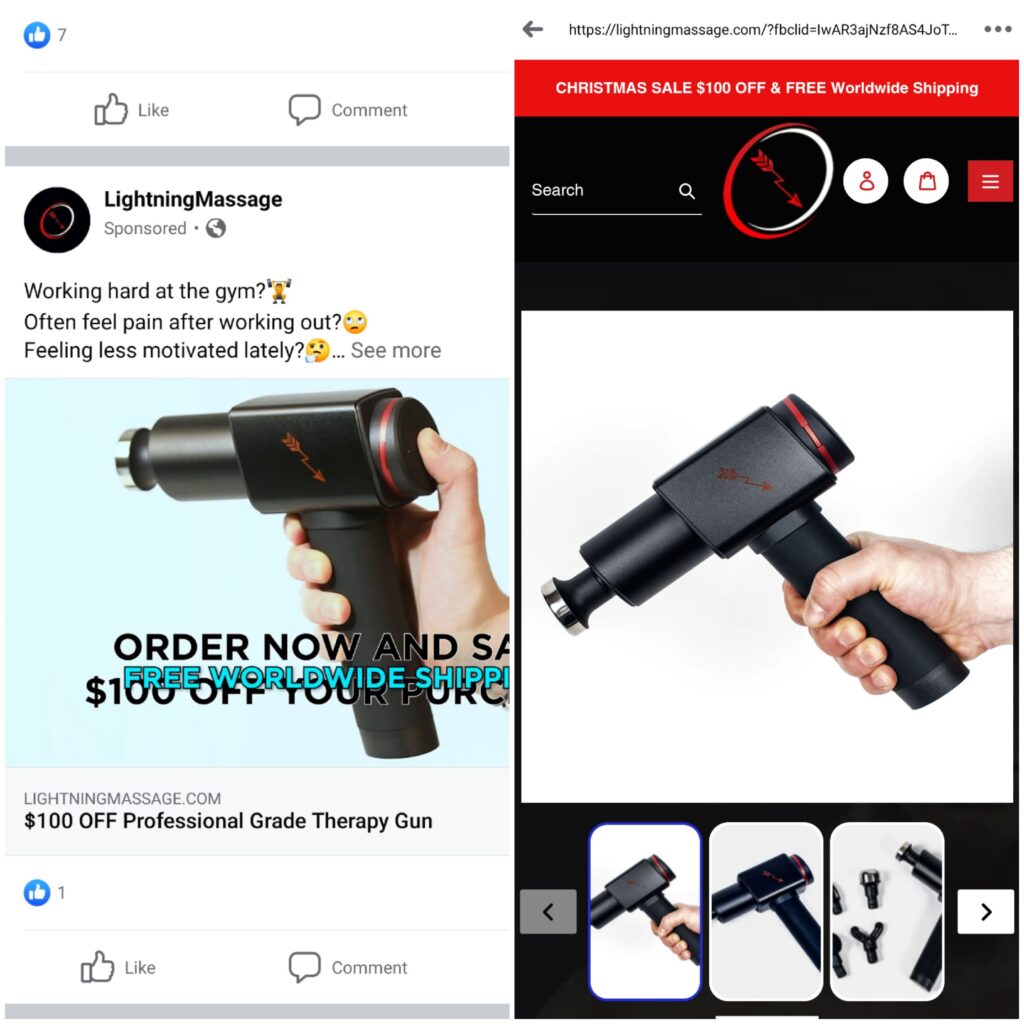 Lets begin with our #1 Seller in the shop! The Flow mini, we believe that the mini is the best in the range for anything that is Light, Easy to Hold and still Pretty Powerful! If you don't like super hard massages, Flow Mini has more than enough power for most people. I always tell people if this is good enough you dont have to spend more. Just grab the mini, you will not regret it. The weight is Light (800g), pretty Powerful too with 10mm amplitude and 30lbs of force, the grip is small prefect if you have smaller hands and the Battery last 3 hours! More than enough for you to use for 1 week! We have been using the DEMO unit in our store for 9 months now and it still perform as good as day 1. Flow Mini comes with 2 Years Local Warranty as well! 1 to 1 exchange or Repair if any manufacturing defects shows up! So I will say that Flow Mini is our most recommended Massage Gun that will satisfy 90% of the User! Check out our short introduction video to the flow mini below.
Light Weight and Lethal – Fazly
Flow Nano(The Lightest and Smallest) NEW!
WOW. SO. TINY, the product you have been waiting for! Light weight, long lasting battery and one of the smallest massage gun in the market right now! Put it in your bag and use it anywhere you go, bus, mrt on the plane. Truly the most portable and useful massage device to bring everywhere.
Weights 315g
Height 144mm, width 147mm. Handle is 46mm
USB C- Fast Charging (3Hours)
Battery Life 3 Hours
Quiet. Very Quiet.
Ultra Lightweight and Ergonomic design. (Weighs 315g)
6mm Amplitude 20lbs Force
Speed : 1800, 2300, 2800rpm.
Warm Heating : 38, 42 and 48 °C (Feels like a warm egg)
10min Smart Off Timer.
2 Years Local Warranty.
Theragun Prime(The Powerful) Our #2 Recommendation
Reviews From Customer
Everyone body is different, Its best if you can give all the guns a try before making your purchase. At ArmourUP we try our best to provide you with a wide selection of high quality massage gun that we source from all over the world. Depending on your Budget and Needs we have it all covered. Starting Price from $149 all the way to $899, your 10mm to 16mm amplitude, light weight or heavy weight. If you are staying in Singapore, Do visit our Store at Woodlands for a Demo on all our products.
If you want to recover but dont want to spend tons of money? Start with a Lacrosse Ball!
Questions?
Drop us a Message