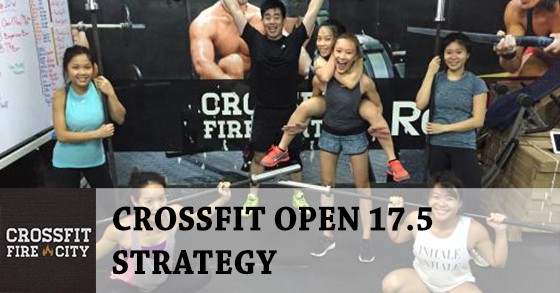 Article
CrossFit Open 17.5 Strategy From CrossFit Fire City, Coach Samuel!
Event description
Rx'd
10 rounds for time of:
9 thrusters
35 double-unders
M95lb. F65lb.
Please read the workout description at
https://games.crossfit.com/workouts/open/2017#workoutDescription
Or, download the workout description at
https://project6-drupal.s3.amazonaws.com/cfg_open2017_event_17_5-8qndhystegd776sbds73.pdf
Gears
– Jump rope (Preferably a cable rope for speed)
– Knee sleeves (for stability during thrusters)
– Chalk (Chalk bar and hands before the WOD)
– Competition weights plates (for minimum bounce)
– Secured collars
Warm up (30-40mins)
You must be sufficiently warmed up for this workout. This will help to keep performance level
consistent with regulated breathing, core temperature and increased oxidation rate.
A. 15-20 mins of Bike, Run or Row @ consistent pace of 70-80%
B. 2-3 rounds of,
15-25 Double unders
3-5 Squat cleans
3-5 Thrusters
Movement prep (10-15mins)
1-2 rounds of,
9 Thrusters
25-35 Double unders
Use this to create rhythm and verify your standards only
Hydrate and set your mind to attempt Open 17.5
Setup
– Thruster
Mark the position of your feet on the ground so you never have to waste time adjusting.
Use competition plates to minimise bar movements.
– Jump rope
Place the rope on the ground neatly so you can pick it up faster
Strategies
Thrusters
– Create full extension efficiently. It is not necessary to pause at the top of the thruster for too long.
– Drop into the front squat smoothly. Lowering the bar into a standing front rack position before
entering the front squat will cost you precious time!
– Maintain movement quality and quantity. Go unbroken!
– Take 2-3 breath for each thruster repetition.
– Position the bar efficiently for the next set of thruster. You do not want to move around to
relocate your bar.
Jump rope
– Keep your feet light. This is a recovery zone for some.
– Stay calm. Accidental tripping may happen. Just keep going.
Pace
1. High level athletes
– – Unbroken, no rest
2. Amateur athletes
– 45-60 sec / round
– Big sets of thrusters (eg. 5-4) and jump rope
– Minimum rest
3. Novice athletes
– 60-90 sec / round
– Consistent sets of thrusters (eg. 3s)
– Consistent sets of jump rope (eg. 10s and 5s)
– Planned and calculated rest (eg. 3-5 secs)
Those with inconsistent double under, consider attempting scaled version before attempting
prescribed.
Your condition and capacity varies from one another. Avoid seeking advise and strategy
unless you find someone with similar skills, strength and endurance.
Stick to your own game plan, breathe and have fun!