Description
JerkFit Death Grips
Ultra Premium Lifting Straps for Dead Lifts, Pull-Ups, and Heavy Shrugs. DEATH GRIPS are the ultimate premium lifting straps PERFECTED.
The ULTIMATE premium lifting straps, PERFECTED (for both men and women)
The PERFECT accessory for maxing out DeadLifts, Pull-Ups and any pulling exercises
Increased grip strength for the HEAVIEST pulls, Reduced forearm fatigue by 80% to hit those last few MOST IMPORTANT reps
Ultra PADDED FOR EXTRA COMFORT, and WON'T cut off circulation!
Flawless design with an ergonomically correct shape that won't dig in to your hands or cause discomfort.
WHY DEATH GRIPS VS. OTHER BRANDS?
Jerkfit has absolutely upped the game for premium lifting straps. When designing the Death Grips, we picked apart what bothered us about other straps out there. What we found was that many of them had yet to be perfected, so we set about figuring it out (which is what we do), and we have absolutely knocked it out of the park with these.
Death Grips are the first straps with the correct ergonomic shape to fit flawlessly in your hand.
No more annoying pointy corners digging in your hands
No more unnessararily wide and heavy grips that get in your way
No more leaving your hands with bits of debris from the grips after every lift
No more having to wrap long straps around the barbell
No more cutting off circulation!
Our weightlifting straps are incredibly well built, durable and powerfully designed, and we have skulls!
WHAT TO USE THEM ON?
DEATH GRIPS are perfect for:
DEAD LIFTS
PULL-UPS
PULL-DOWNS
HEAVY DUMBBELL SHRUGS
BENT OVER ROWS
LAT PULLS
HANGING AB LIFTS
AND JUST ABOUT ANY PULLING OR HANGING EXERCISES.
Even if you've become accustomed to other straps, the difference is shockingly noticeable when wearing Death Grips.
HOW TO SIZE
Measure from the circumference of the wrist. Wrap the tape measure all the way around your wrist (directly over the wrist bone.)
The size of Death Grips is not determined by your hand size but your wrist circumference.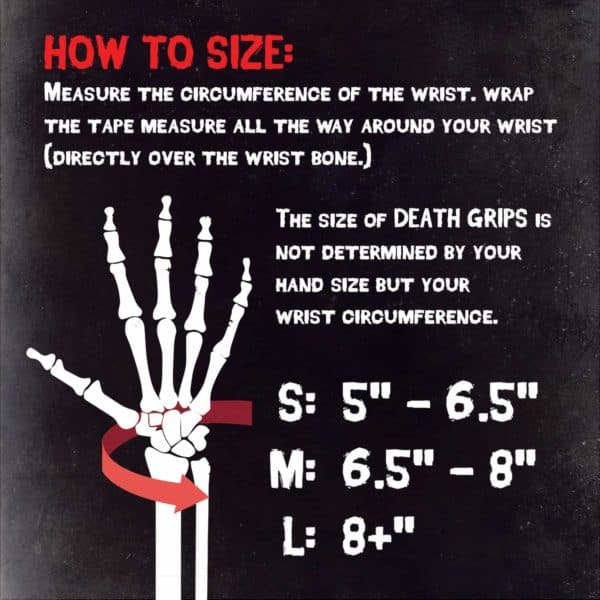 S: 5″- 6.5″
M: 6.5″- 8″
L: 8+"