Article
Theragun 2020 Full Comparison (Pro, Elite, Prime, Mini) Read Before you buy
2020 Edition of Theragun is Finally here in Singapore.
In this edition finally Theragun is no longer your Noisy Kind of Gun and it is still as Powerful as before! I believe this will be the main selling factor for Theragun in 2020 as they are now Quiet (Equally quiet as compared to most of the leading massage gun at 55 to 65db) and the Most Powerful Massage Gun in the Market! Skip to the end to find out about my recommendation if you are not interested in "Additional Features/Function".
They also added Theragun Mini, A portable massage device weighing at only 650g. You can easily throw into the bag and bring it any where you go! Good news this round for the Prime and Mini is that you can use all the attachment that the PRO can use. Unlike the previous model of LIV, where they change the connector of the attachment and you are stuck with 2 soft ball kind of attachment.
All new Theragun App : The App itself is super useful for beginner and i highly encourage you to download it. Regardless of what massage gun you are using, the theragun app will give you information on how you can use your massage gun! Its like a program for you to follow so you know what to do! But of course if you are a long time user for the massage gun, you most like know how much pressure, and which spot you need to release. Then the app is not that big of a use to you.
Pressure Meter : Pressure Meter Comes in 5 different Level, its a indicator of how hard you are pressing. On the app right now anything above the pressure of 1 will be "perfect pressure" and above 5 will be "too hard". I havent fully get the idea on how this pressure is going to help you now, as individual pain threshold is different and doesnt mean the more pain you feel the better it is.. it still depends on the technique you use to release the muscle. In the end what we want to achieve is a relaxed muscle and not a bruise up muscle.
Super Soft Attachment : New addition to the theragun Attachment Family is the Super Soft Attachment with a Replaceable Foam like Material, this cushion style attachment absorbs alot of impact off the theragun and make it feels like a vibration device. Might have more usage from the therapist side treating injured patient. For normal user this might not have that much of a use in my opinion right now.
Recommendation: This round actually, i would recommend taking a look at the cheaper model as its more usable as compared to the Previous cheaper model which only comes with a 60min battery life and after a year of using it we have customer complaining that the battery life drop to about 30min.. and worst for the LIV which only come with a 45min battery life. This time round all unit can last up to 120min because of the newly upgraded motor which is more energy efficient! And Plus Plus the new Elite and Prime comes with Standard Ball, Thumb, Dampener and Cone attachment, Which you do not have to purchase separately at $35sgd each! These are the 4 more often used attachment in my opinion!
*These are my initial review from the information i know at the moment, as i have only tried out the Theragun Pro! More information will be updated shortly after i have the other products on hand.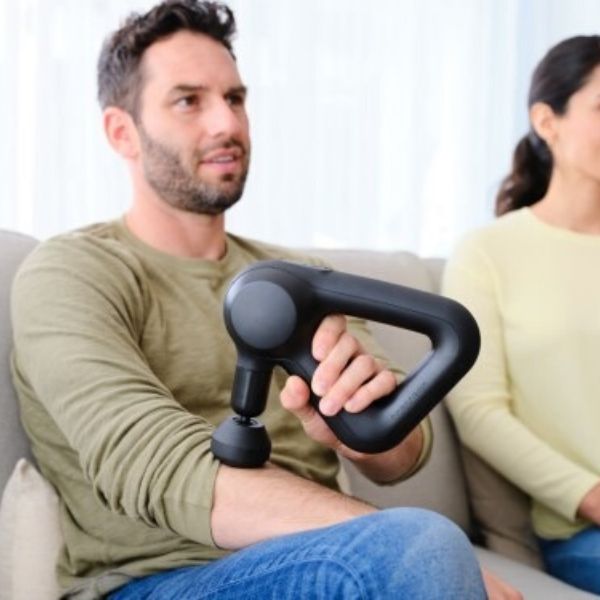 | | | | | |
| --- | --- | --- | --- | --- |
| | Pro | Elite | Prime | Mini |
| Price | $899 SGD | $639 SGD | $469 SGD | $319 SGD |
| Amplitude | 16mm | 16mm | 16mm | 12mm |
| Stall Force | 60lbs | 40lbs | 30lbs | 20lbs |
| Weight | 1.3kg | 1kg | 1kg | 650g |
| Battery Life | 150min (1 Battery) Comes with 2 Battery | 120min (Non Removable Battery) | 120min (Non Removable Battery) | 150min (Non Removable Battery) |
| Attachment | 6 Attachment (Super soft, Standard Ball, Thumb, Dampener, Wedge and Cone) | 5 Attachment (Standard Ball, Thumb, Dampener, Wedge and Cone) | 4 Attachment (Standard Ball, Thumb, Dampener, and Cone) | 1 Attachment (Standard Ball) |
| Pressure Meter | Yes | Yes | No | No |
| Bluetooth to APP | Yes | Yes | Yes | No |
| Warranty | 2 Years | 1 Year | 1 Year | 1 Year |