Description
SKINS COMPRESSION DNAMIC FORCE MENS LONG TIGHT BLACK
Gear your legs for game day in SKINS DNAmic FORCE Men's Long Tights. Featuring SKINS medium DNAmic Gradient Compression profile and comfortable features like a wide microfibre jaquard waistband and shaped crotch, these long tights are engineered to improve your form, stability and output during team sport training and match days.
At SKINS, we don't believe in 'one size fits all'. That's why we take the sizing and fit of our garments seriously. We want to make sure you get the all benefits of precise compression in the most comfortable product possible.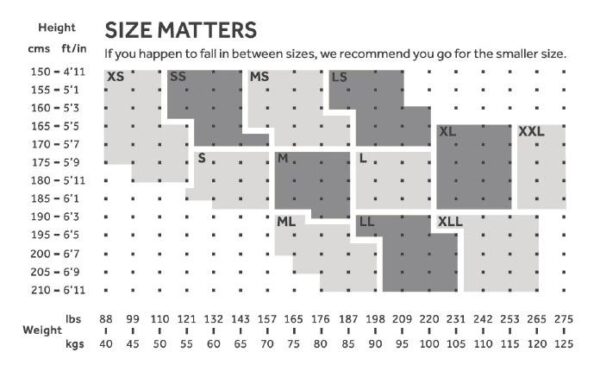 SO, HOW DO WE GET THE PERFECT FIT?
We know that for athletes to perform at their best, they need to be comfortable, so we use body mass index (BMI) measurements to determine the best size garment for every individual. This ensures both our compression and comfort levels are optimised. But it also means you can't just go and grab your usual Small, Medium or Large size like you normally would. We need you to take a few measurements first to help determine the right size for you. 
For tights, size is calculated by height and weight and for tops, by your chest circumference – measured around the widest part. For calf tights and sleeves, the size is determined by your calf or bicep circumference respectively, again, measured around the widest part. 
In 2011, we took sizing to another level. After undertaking a 3D body scanning study of hundreds of amateur and professional athletes we established 400 key fitting points which form the basis of our A400 and RY400 garments. As well as enabling us to maximise the benefits of compression during activity and recovery, this research allowed us to ensure ultimate comfort of our 400 Series ranges. 
Specific size charts are included on each product page. But if you don't feel like looking those up, we've included a size calculator as well. So just punch in your measurements and we'll recommend the best size SKINS product for you. 
If you end up falling on the borderline between two sizes we recommend choosing the smaller size for tights but the larger size for tops. If you need further guidance in selecting the right size, get in touch with our customer service team – they'll be happy to help you out. 
Wondering what SKINS will feel like when you put them on? 
Compression is meant to feel tight – probably tighter than anything you've worn before unless you're a frequent wearer of Shapewear. But even though they're tight, they're still meant to be comfortable and shouldn't pinch or restrict your movement in any way. When you receive your SKINS, put them on and walk around in them for a little while. They will take some getting used to, but after about 10 minutes you shouldn't notice that you're wearing them. 
To make sure they're not too big, do this simple little test: try to pull the fabric away from your skin. If it comes away easily and you can stretch it out from your body a fair way, then they're likely to be too loose and you should go down a size. 
If you're trying to get into a pair of long tights, we suggest you scrunch them up from the waist down to the ankle and put one foot in first – the same as you would do if you were putting on a pair of panty hose. Do the same on the other leg. Then gradually pull each leg up – taking care to keep the seams running up your legs as you go.
Guys, you'll notice you have a pouch at the front for your tackle. Just make sure this is at the front when you put the tights on – you won't believe how many people we've seen running around with their tights on backwards – that CAN'T be comfortable.