Description
The Compex® Fixx™ 1.0 massager provides the ultimate deep tissue massage for sore and overworked muscles.
Combining speed and hand pressure customizes your massage to meet your needs and requirements for recovery.
Fixx 1.0 massager can help reduce soreness, loosen tight muscles, and can be used for warm up prior to activity.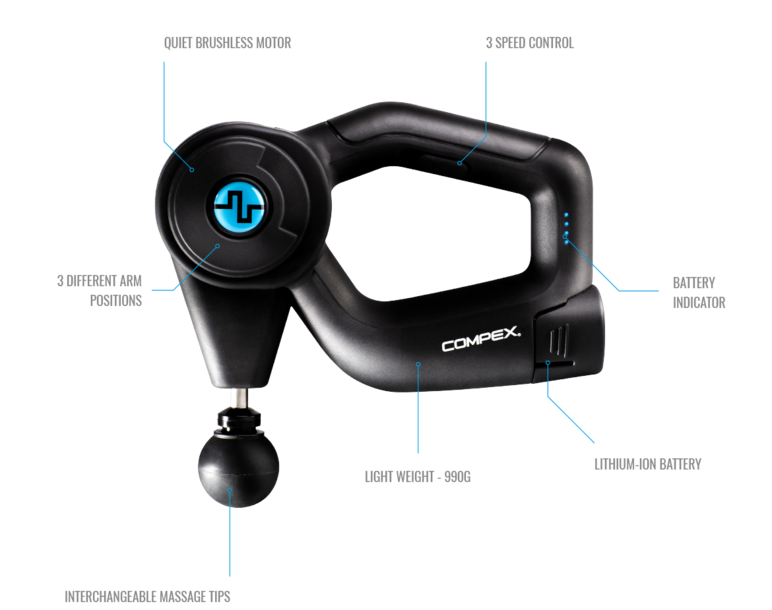 ABOUT THE COMPEX FIXX 1.0
FUNCTIONS
Quiet Brushless Motor
14mm Amplitude
15lbs Stall Force
3 Different Arm Positions
Interchangable Massage Tips
Light Weight – 990G
3-Speed Control – 1500rpm, 2000rpm and 2800rpm
Battery Indicator
Lithium-Ion Battery – lasts 90mins
BENEFITS
Can help reduce muscle soreness
Can help loosen tight muscles
Can be used for warm up prior to activity
READ BEFORE USE: CONTRAINDICATIONS
Recent surgeries of any kind
Skin conditions and/or wounds affected by vibrating massagers
Herniated disks
Pregnancy
Diabetes/neuropathy or retinal damage
Wear of pacemakers
Injuries affected by vibrating massagers
What's in the box?